Collected Future is a material exploration of soft/hard data, labour and online identity as memory object. Personality analysis output derived from my social media activity via the IBM Watson natural language AI system, which I translated into binary code. I then applied the binary patterns by hand to the punchcards and knitted with a Brother KH836 punchcard knitting machine, the same technology that eventually evolved into punchcard computing. This process was a meditation on labour, computation and identity through making. Below is a knitted portion of my online behaviour patterns and documentation from a multimedia exhibition where audience members were invited to explore my data through touch.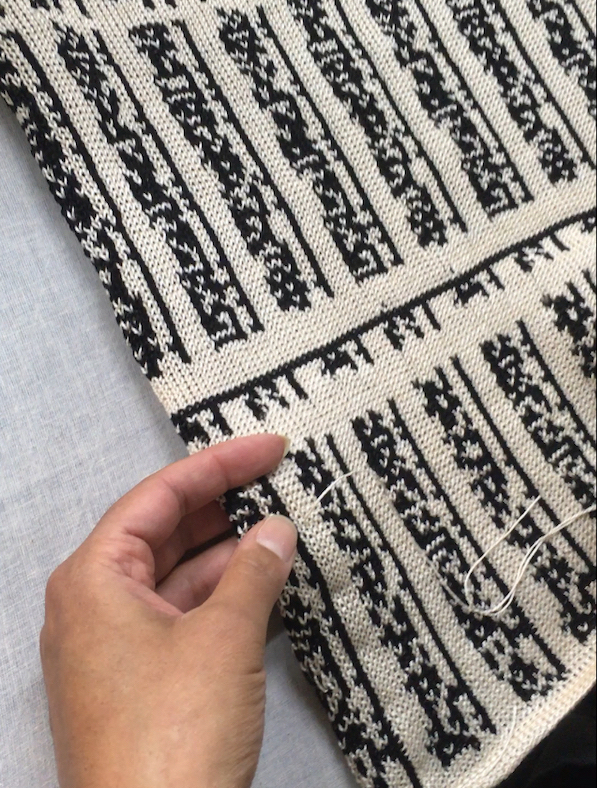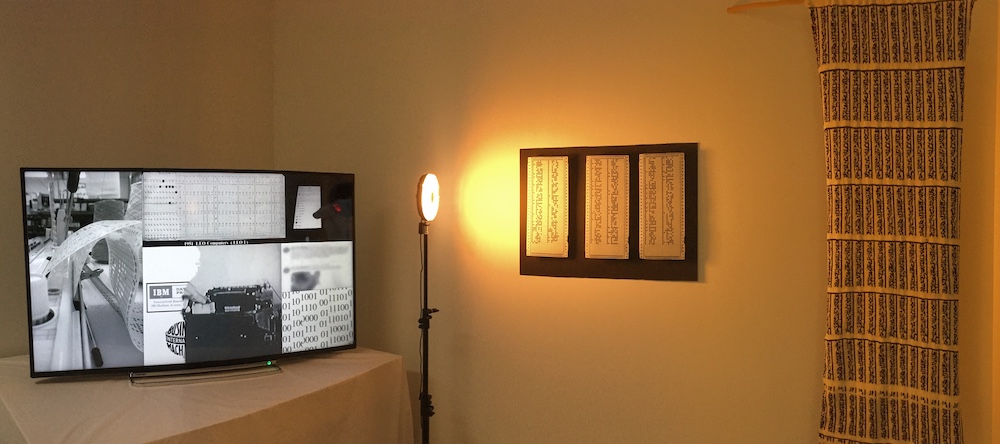 How does the computer understand me? Below are portions of the language and percentage output from Watson and a tiny portion of my commercial data here: Ad Impressions.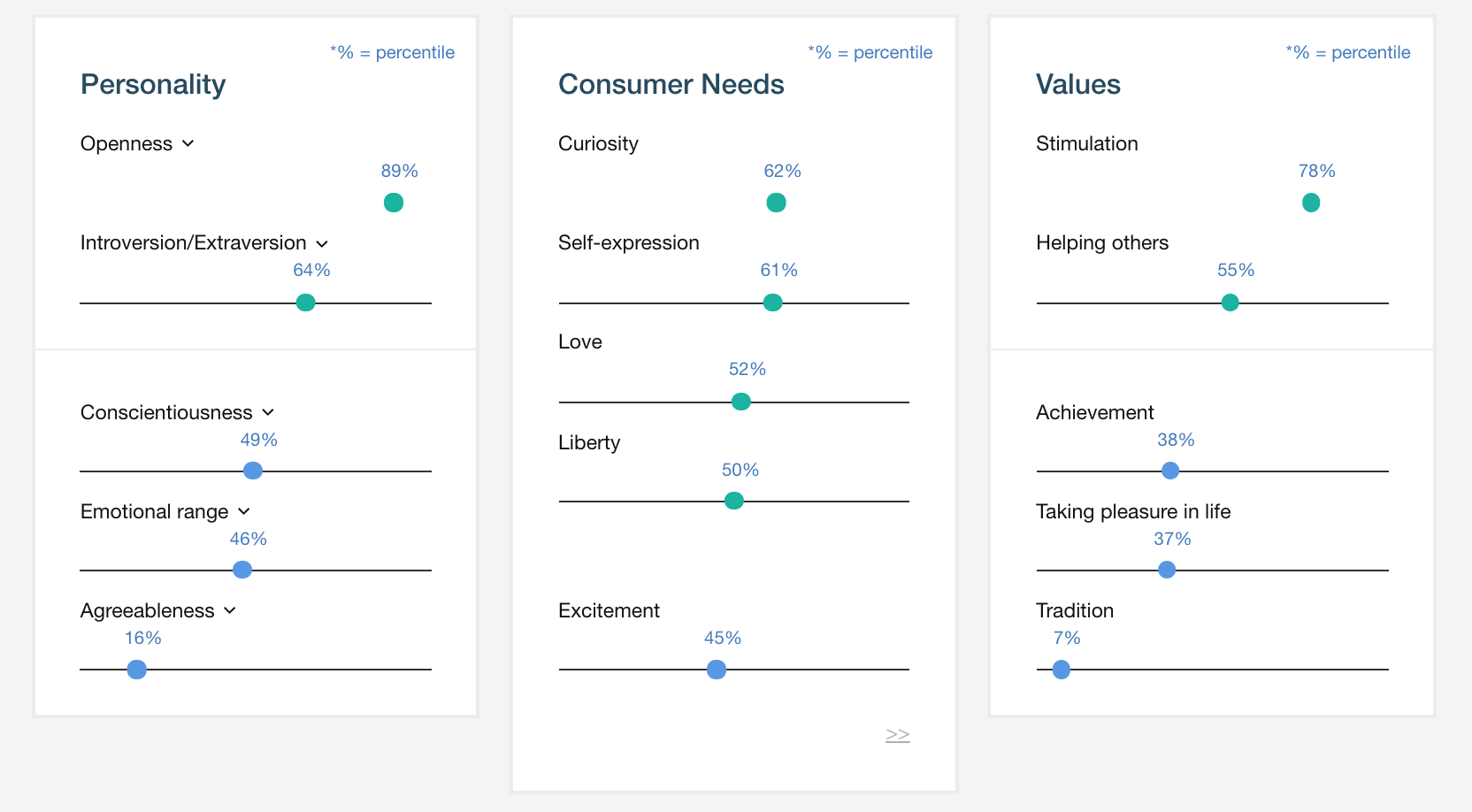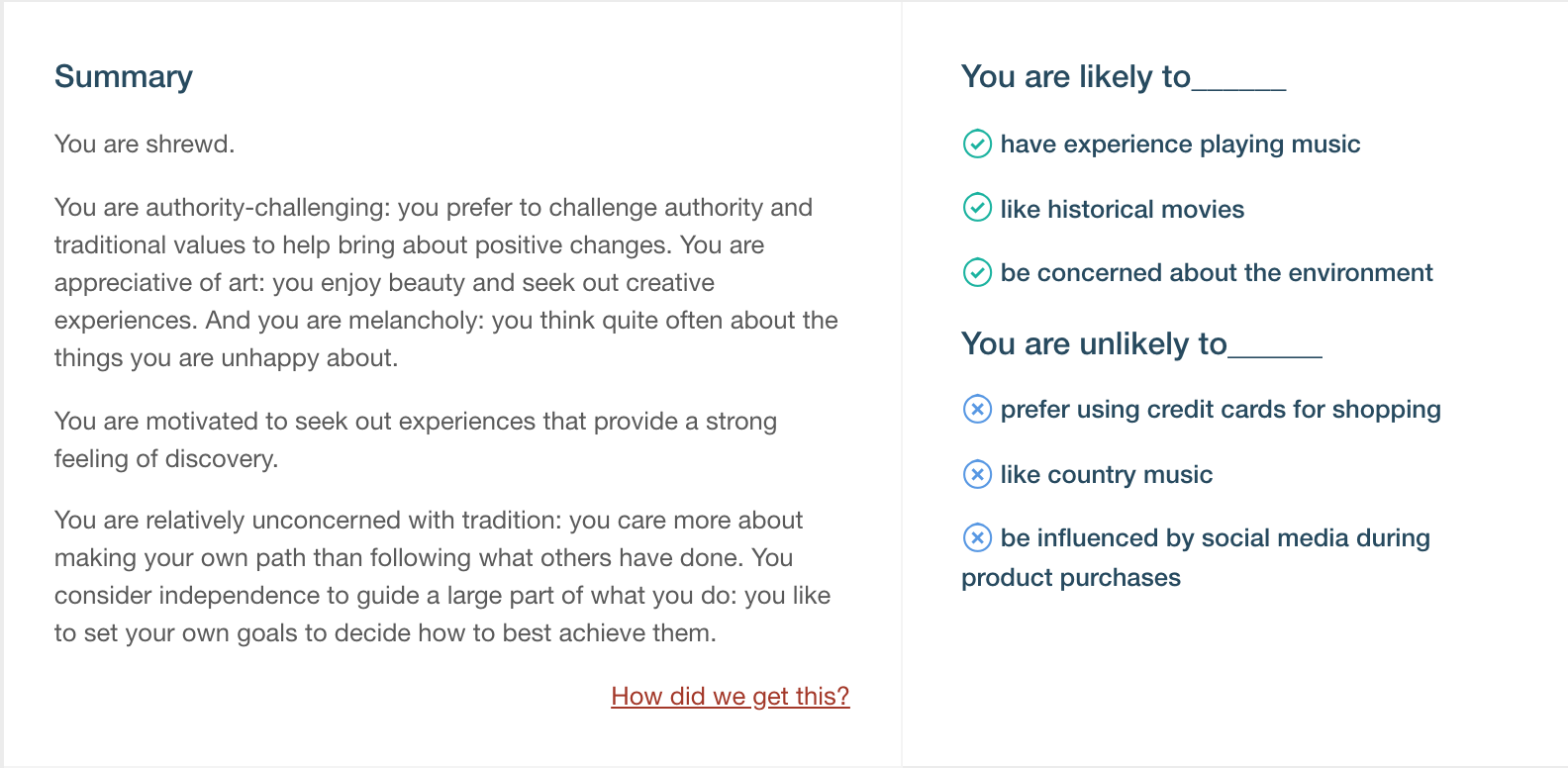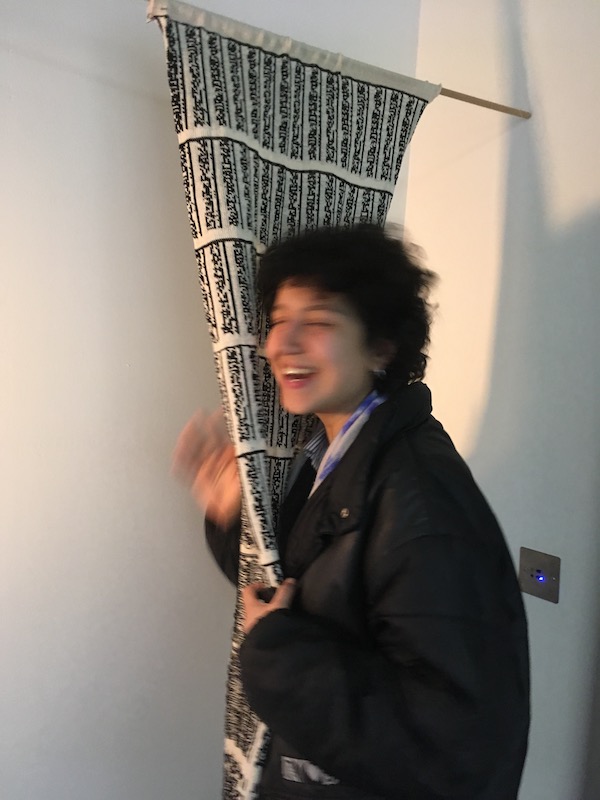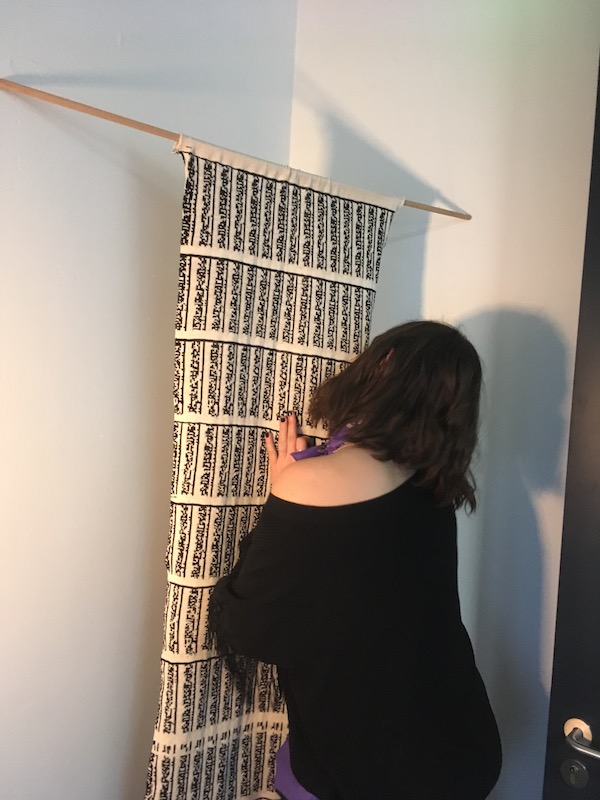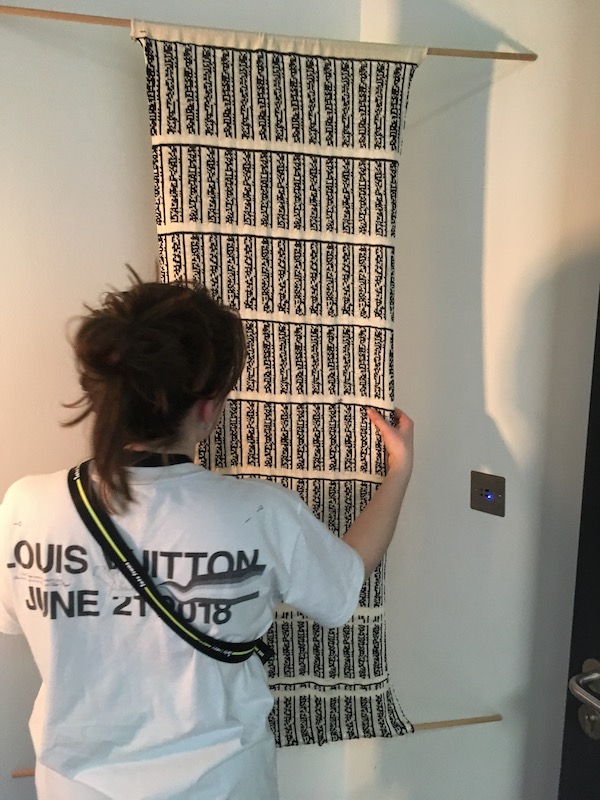 This project explores complex networks and online identity through the materiality of data. It is also a part of additional research into broader themes of labour, from physical to digital, and feminism in the evolution of computation.
01011001 01101111 01110101 00100000 01100001 01110010 01100101 00100000 01110011 01101000 01110010 01100101 01110111 01100100 00101110 00001101 00001010 00001101 00001010 01011001 01101111 01110101 00100000 01100001 01110010 01100101 00100000 01100001 01110101 01110100 01101000 01101111 01110010 01101001 01110100 01111001 00101101 01100011 01101000 01100001 01101100 01101100 01100101 01101110 01100111 01101001 01101110 01100111 00111010 00100000 01111001 01101111 01110101 00100000 01110000 01110010 01100101 01100110 01100101 01110010 00100000 01110100 01101111 00100000 01100011 01101000 01100001 01101100 01101100 01100101 01101110 01100111 01100101 00100000 01100001 01110101 01110100 01101000 01101111 01110010 01101001 01110100 01111001 00100000 01100001 01101110 01100100 00100000 01110100 01110010 01100001 01100100 01101001 01110100 01101001 01101111 01101110 01100001 01101100 00100000 01110110 01100001 01101100 01110101 01100101 01110011 00100000 01110100 01101111 00100000 01101000 01100101 01101100 01110000 00100000 01100010 01110010 01101001 01101110 01100111 00100000 01100001 01100010 01101111 01110101 01110100 00100000 01110000 01101111 01110011 01101001 01110100 01101001 01110110 01100101 00100000 01100011 01101000 01100001 01101110 01100111 01100101 01110011 00101110 00100000 01011001 01101111 01110101 00100000 01100001 01110010 01100101 00100000 01100001 01110000 01110000 01110010 01100101 01100011 01101001 01100001 01110100 01101001 01110110 01100101 00100000 01101111 01100110 00100000 01100001 01110010 01110100 00111010 00100000 01111001 01101111 01110101 00100000 01100101 01101110 01101010 01101111 01111001 00100000 01100010 01100101 01100001 01110101 01110100 01111001 00100000 01100001 01101110 01100100 00100000 01110011 01100101 01100101 01101011 00100000 01101111 01110101 01110100 00100000 01100011 01110010 01100101 01100001 01110100 01101001 01110110 01100101 00100000 01100101 01111000 01110000 01100101 01110010 01101001 01100101 01101110 01100011 01100101 01110011 00101110 00100000 01000001 01101110 01100100 00100000 01111001 01101111 01110101 00100000 01100001 01110010 01100101 00100000 01101101 01100101 01101100 01100001 01101110 01100011 01101000 01101111 01101100 01111001 00111010 00100000 01111001 01101111 01110101 00100000 01110100 01101000 01101001 01101110 01101011 00100000 01110001 01110101 01101001 01110100 01100101 00100000 01101111 01100110 01110100 01100101 01101110 00100000 01100001 01100010 01101111 01110101 01110100 00100000 01110100 01101000 01100101 00100000 01110100 01101000 01101001 01101110 01100111 01110011 00100000 01111001 01101111 01110101 00100000 01100001 01110010 01100101 00100000 01110101 01101110 01101000 01100001 01110000 01110000 01111001 00100000 01100001 01100010 01101111 01110101 01110100 00101110 00001101 00001010 00001101 00001010 01011001 01101111 01110101 00100000 01100001 01110010 01100101 00100000 01101101 01101111 01110100 01101001 01110110 01100001 01110100 01100101 01100100 00100000 01110100 01101111 00100000 01110011 01100101 01100101 01101011 00100000 01101111 01110101 01110100 00100000 01100101 01111000 01110000 01100101 01110010 01101001 01100101 01101110 01100011 01100101 01110011 00100000 01110100 01101000 01100001 01110100 00100000 01110000 01110010 01101111 01110110 01101001 01100100 01100101 00100000 01100001 00100000 01110011 01110100 01110010 01101111 01101110 01100111 00100000 01100110 01100101 01100101 01101100 01101001 01101110 01100111 00100000 01101111 01100110 00100000 01100100 01101001 01110011 01100011 01101111 01110110 01100101 01110010 01111001 00101110 00001101 00001010 00001101 00001010 01011001 01101111 01110101 00100000 01100001 01110010 01100101 00100000 01110010 01100101 01101100 01100001 01110100 01101001 01110110 01100101 01101100 01111001 00100000 01110101 01101110 01100011 01101111 01101110 01100011 01100101 01110010 01101110 01100101 01100100 00100000 01110111 01101001 01110100 01101000 00100000 01110100 01110010 01100001 01100100 01101001 01110100 01101001 01101111 01101110 00111010 00100000 01111001 01101111 01110101 00100000 01100011 01100001 01110010 01100101 00100000 01101101 01101111 01110010 01100101 00100000 01100001 01100010 01101111 01110101 01110100 00100000 01101101 01100001 01101011 01101001 01101110 01100111 00100000 01111001 01101111 01110101 01110010 00100000 01101111 01110111 01101110 00100000 01110000 01100001 01110100 01101000 00100000 01110100 01101000 01100001 01101110 00100000 01100110 01101111 01101100 01101100 01101111 01110111 01101001 01101110 01100111 00100000 01110111 01101000 01100001 01110100 00100000 01101111 01110100 01101000 01100101 01110010 01110011 00100000 01101000 01100001 01110110 01100101 00100000 01100100 01101111 01101110 01100101 00101110 00100000 01011001 01101111 01110101 00100000 01100011 01101111 01101110 01110011 01101001 01100100 01100101 01110010 00100000 01101001 01101110 01100100 01100101 01110000 01100101 01101110 01100100 01100101 01101110 01100011 01100101 00100000 01110100 01101111 00100000 01100111 01110101 01101001 01100100 01100101 00100000 01100001 00100000 01101100 01100001 01110010 01100111 01100101 00100000 01110000 01100001 01110010 01110100 00100000 01101111 01100110 00100000 01110111 01101000 01100001 01110100 00100000 01111001 01101111 01110101 00100000 01100100 01101111 00111010 00100000 01111001 01101111 01110101 00100000 01101100 01101001 01101011 01100101 00100000 01110100 01101111 00100000 01110011 01100101 01110100 00100000 01111001 01101111 01110101 01110010 00100000 01101111 01110111 01101110 00100000 01100111 01101111 01100001 01101100 01110011 00100000 01110100 01101111 00100000 01100100 01100101 01100011 01101001 01100100 01100101 00100000 01101000 01101111 01110111 00100000 01110100 01101111 00100000 01100010 01100101 01110011 01110100 00100000 01100001 01100011 01101000 01101001 01100101 01110110 01100101 00100000 01110100 01101000 01100101 01101101 00101110 01011001 01101111 01110101 00100000 01100001 01110010 01100101 00100000 01110011 01101000 01110010 01100101 01110111 01100100 00101110 00001101 00001010 00001101 00001010 01011001 01101111 01110101 00100000 01100001 01110010 01100101 00100000 01100001 01110101 01110100 01101000 01101111 01110010 01101001 01110100 01111001 00101101 01100011 01101000 01100001 01101100 01101100 01100101 01101110 01100111 01101001 01101110 01100111 00111010 00100000 01111001 01101111 01110101 00100000 01110000 01110010 01100101 01100110 01100101 01110010 00100000 01110100 01101111 00100000 01100011 01101000 01100001 01101100 01101100 01100101 01101110 01100111 01100101 00100000 01100001 01110101 01110100 01101000 01101111 01110010 01101001 01110100 01111001 00100000 01100001 01101110 01100100 00100000 01110100 01110010 01100001 01100100 01101001 01110100 01101001 01101111 01101110 01100001 01101100 00100000 01110110 01100001 01101100 01110101 01100101 01110011 00100000 01110100 01101111 00100000 01101000 01100101 01101100 01110000 00100000 01100010 01110010 01101001 01101110 01100111 00100000 01100001 01100010 01101111 01110101 01110100 00100000 01110000 01101111 01110011 01101001 01110100 01101001 01110110 01100101 00100000 01100011 01101000 01100001 01101110 01100111 01100101 01110011 00101110 00100000 01011001 01101111 01110101 00100000 01100001 01110010 01100101 00100000 01100001 01110000 01110000 01110010 01100101 01100011 01101001 01100001 01110100 01101001 01110110 01100101 00100000 01101111 01100110 00100000 01100001 01110010 01110100 00111010 00100000 01111001 01101111 01110101 00100000 01100101 01101110 01101010 01101111 01111001 00100000 01100010 01100101 01100001 01110101 01110100 01111001 00100000 01100001 01101110 01100100 00100000 01110011 01100101 01100101 01101011 00100000 01101111 01110101 01110100 00100000 01100011 01110010 01100101 01100001 01110100 01101001 01110110 01100101 00100000 01100101 01111000 01110000 01100101 01110010 01101001 01100101 01101110 01100011 01100101 01110011 00101110 00100000 01000001 01101110 01100100 00100000 01111001 01101111 01110101 00100000 01100001 01110010 01100101 00100000 01101101 01100101 01101100 01100001 01101110 01100011 01101000 01101111 01101100 01111001 00111010 00100000 01111001 01101111 01110101 00100000 01110100 01101000 01101001 01101110 01101011 00100000 01110001 01110101 01101001 01110100 01100101 00100000 01101111 01100110 01110100 01100101 01101110 00100000 01100001 01100010 01101111 01110101 01110100 00100000 01110100 01101000 01100101 00100000 01110100 01101000 01101001 01101110 01100111 01110011 00100000 01111001 01101111 01110101 00100000 01100001 01110010 01100101 00100000 01110101 01101110 01101000 01100001 01110000 01110000 01111001 00100000 01100001 01100010 01101111 01110101 01110100 00101110 00001101 00001010 00001101 00001010 01011001 01101111 01110101 00100000 01100001 01110010 01100101 00100000 01101101 01101111 01110100 01101001 01110110 01100001 01110100 01100101 01100100 00100000 01110100 01101111 00100000 01110011 01100101 01100101 01101011 00100000 01101111 01110101 01110100 00100000 01100101 01111000 01110000 01100101 01110010 01101001 01100101 01101110 01100011 01100101 01110011 00100000 01110100 01101000 01100001 01110100 00100000 01110000 01110010 01101111 01110110 01101001 01100100 01100101 00100000 01100001 00100000 01110011 01110100 01110010 01101111 01101110 01100111 00100000 01100110 01100101 01100101 01101100 01101001 01101110 01100111 00100000 01101111 01100110 00100000 01100100 01101001 01110011 01100011 01101111 01110110 01100101 01110010 01111001 00101110 00001101 00001010 00001101 00001010 01011001 01101111 01110101 00100000 01100001 01110010 01100101 00100000 01110010 01100101 01101100 01100001 01110100 01101001 01110110 01100101 01101100 01111001 00100000 01110101 01101110 01100011 01101111 01101110 01100011 01100101 01110010 01101110 01100101 01100100 00100000 01110111 01101001 01110100 01101000 00100000 01110100 01110010 01100001 01100100 01101001 01110100 01101001 01101111 01101110 00111010 00100000 01111001 01101111 01110101 00100000 01100011 01100001 01110010 01100101 00100000 01101101 01101111 01110010 01100101 00100000 01100001 01100010 01101111 01110101 01110100 00100000 01101101 01100001 01101011 01101001 01101110 01100111 00100000 01111001 01101111 01110101 01110010 00100000 01101111 01110111 01101110 00100000 01110000 01100001 01110100 01101000 00100000 01110100 01101000 01100001 01101110 00100000 01100110 01101111 01101100 01101100 01101111 01110111 01101001 01101110 01100111 00100000 01110111 01101000 01100001 01110100 00100000 01101111 01110100 01101000 01100101 01110010 01110011 00100000 01101000 01100001 01110110 01100101 00100000 01100100 01101111 01101110 01100101 00101110 00100000 01011001 01101111 01110101 00100000 01100011 01101111 01101110 01110011 01101001 01100100 01100101 01110010 00100000 01101001 01101110 01100100 01100101 01110000 01100101 01101110 01100100 01100101 01101110 01100011 01100101 00100000 01110100 01101111 00100000 01100111 01110101 01101001 01100100 01100101 00100000 01100001 00100000 01101100 01100001 01110010 01100111 01100101 00100000 01110000 01100001 01110010 01110100 00100000 01101111 01100110 00100000 01110111 01101000 01100001 01110100 00100000 01111001 01101111 01110101 00100000 01100100 01101111 00111010 00100000 01111001 01101111 01110101 00100000 01101100 01101001 01101011 01100101 00100000 01110100 01101111 00100000 01110011 01100101 01110100 00100000 01111001 01101111 01110101 01110010 00100000 01101111 01110111 01101110 00100000 01100111 01101111 01100001 01101100 01110011 00100000 01110100 01101111 00100000 01100100 01100101 01100011 01101001 01100100 01100101 00100000 01101000 01101111 01110111 00100000 01110100 01101111 00100000 01100010 01100101 01110011 01110100 00100000 01100001 01100011 01101000 01101001 01100101 01110110 01100101 00100000 01110100 01101000 01100101 01101101 00101110 01011001 01101111 01110101 00100000 01100001 01110010 01100101 00100000 01110011 01101000 01110010 01100101 01110111 01100100 00101110 00001101 00001010 00001101 00001010 01011001 01101111 01110101 00100000 01100001 01110010 01100101 00100000 01100001 01110101 01110100 01101000 01101111 01110010 01101001 01110100 01111001 00101101 01100011 01101000 01100001 01101100 01101100 01100101 01101110 01100111 01101001 01101110 01100111 00111010 00100000 01111001 01101111 01110101 00100000 01110000 01110010 01100101 01100110 01100101 01110010 00100000 01110100 01101111 00100000 01100011 01101000 01100001 01101100 01101100 01100101 01101110 01100111 01100101 00100000 01100001 01110101 01110100 01101000 01101111 01110010 01101001 01110100 01111001 00100000 01100001 01101110 01100100 00100000 01110100 01110010 01100001 01100100 01101001 01110100 01101001 01101111 01101110 01100001 01101100 00100000 01110110 01100001 01101100 01110101 01100101 01110011 00100000 01110100 01101111 00100000 01101000 01100101 01101100 01110000 00100000 01100010 01110010 01101001 01101110 01100111 00100000 01100001 01100010 01101111 01110101 01110100 00100000 01110000 01101111 01110011 01101001 01110100 01101001 01110110 01100101 00100000 01100011 01101000 01100001 01101110 01100111 01100101 01110011 00101110 00100000 01011001 01101111 01110101 00100000 01100001 01110010 01100101 00100000 01100001 01110000 01110000 01110010 01100101 01100011 01101001 01100001 01110100 01101001 01110110 01100101 00100000 01101111 01100110 00100000 01100001 01110010 01110100 00111010 00100000 01111001 01101111 01110101 00100000 01100101 01101110 01101010 01101111 01111001 00100000 01100010 01100101 01100001 01110101 01110100 01111001 00100000 01100001 01101110 01100100 00100000 01110011 01100101 01100101 01101011 00100000 01101111 01110101 01110100 00100000 01100011 01110010 01100101 01100001 01110100 01101001 01110110 01100101 00100000 01100101 01111000 01110000 01100101 01110010 01101001 01100101 01101110 01100011 01100101 01110011 00101110 00100000 01000001 01101110 01100100 00100000 01111001 01101111 01110101 00100000 01100001 01110010 01100101 00100000 01101101 01100101 01101100 01100001 01101110 01100011 01101000 01101111 01101100 01111001 00111010 00100000 01111001 01101111 01110101 00100000 01110100 01101000 01101001 01101110 01101011 00100000 01110001 01110101 01101001 01110100 01100101 00100000 01101111 01100110 01110100 01100101 01101110 00100000 01100001 01100010 01101111 01110101 01110100 00100000 01110100 01101000 01100101 00100000 01110100 01101000 01101001 01101110 01100111 01110011 00100000 01111001 01101111 01110101 00100000 01100001 01110010 01100101 00100000 01110101 01101110 01101000 01100001 01110000 01110000 01111001 00100000 01100001 01100010 01101111 01110101 01110100 00101110 00001101 00001010 00001101 00001010 01011001 01101111 01110101 00100000 01100001 01110010 01100101 00100000 01101101 01101111 01110100 01101001 01110110 01100001 01110100 01100101 01100100 00100000 01110100 01101111 00100000 01110011 01100101 01100101 01101011 00100000 01101111 01110101 01110100 00100000 01100101 01111000 01110000 01100101 01110010 01101001 01100101 01101110 01100011 01100101 01110011 00100000 01110100 01101000 01100001 01110100 00100000 01110000 01110010 01101111 01110110 01101001 01100100 01100101 00100000 01100001 00100000 01110011 01110100 01110010 01101111 01101110 01100111 00100000 01100110 01100101 01100101 01101100 01101001 01101110 01100111 00100000 01101111 01100110 00100000 01100100 01101001 01110011 01100011 01101111 01110110 01100101 01110010 01111001 00101110 00001101 00001010 00001101 00001010 01011001 01101111 01110101 00100000 01100001 01110010 01100101 00100000 01110010 01100101 01101100 01100001 01110100 01101001 01110110 01100101 01101100 01111001 00100000 01110101 01101110 01100011 01101111 01101110 01100011 01100101 01110010 01101110 01100101 01100100 00100000 01110111 01101001 01110100 01101000 00100000 01110100 01110010 01100001 01100100 01101001 01110100 01101001 01101111 01101110 00111010 00100000 01111001 01101111 01110101 00100000 01100011 01100001 01110010 01100101 00100000 01101101 01101111 01110010 01100101 00100000 01100001 01100010 01101111 01110101 01110100 00100000 01101101 01100001 01101011 01101001 01101110 01100111 00100000 01111001 01101111 01110101 01110010 00100000 01101111 01110111 01101110 00100000 01110000 01100001 01110100 01101000 00100000 01110100 01101000 01100001 01101110 00100000 01100110 01101111 01101100 01101100 01101111 01110111 01101001 01101110 01100111 00100000 01110111 01101000 01100001 01110100 00100000 01101111 01110100 01101000 01100101 01110010 01110011 00100000 01101000 01100001 01110110 01100101 00100000 01100100 01101111 01101110 01100101 00101110 00100000 01011001 01101111 01110101 00100000 01100011 01101111 01101110 01110011 01101001 01100100 01100101 01110010 00100000 01101001 01101110 01100100 01100101 01110000 01100101 01101110 01100100 01100101 01101110 01100011 01100101 00100000 01110100 01101111 00100000 01100111 01110101 01101001 01100100 01100101 00100000 01100001 00100000 01101100 01100001 01110010 01100111 01100101 00100000 01110000 01100001 01110010 01110100 00100000 01101111 01100110 00100000 01110111 01101000 01100001 01110100 00100000 01111001 01101111 01110101 00100000 01100100 01101111 00111010 00100000 01111001 01101111 01110101 00100000 01101100 01101001 01101011 01100101 00100000 01110100 01101111 00100000 01110011 01100101 01110100 00100000 01111001 01101111 01110101 01110010 00100000 01101111 01110111 01101110 00100000 01100111 01101111 01100001 01101100 01110011 00100000 01110100 01101111 00100000 01100100 01100101 01100011 01101001 01100100 01100101 00100000 01101000 01101111 01110111 00100000 01110100 01101111 00100000 01100010 01100101 01110011 01110100 00100000 01100001 01100011 01101000 01101001 01100101 01110110 01100101 00100000 01110100 01101000 01100101 01101101 00101110 01011001 01101111 01110101 00100000 01100001 01110010 01100101 00100000 01110011 01101000 01110010 01100101 01110111 01100100 00101110 00001101 00001010 00001101 00001010 01011001 01101111 01110101 00100000 01100001 01110010 01100101 00100000 01100001 01110101 01110100 01101000 01101111 01110010 01101001 01110100 01111001 00101101 01100011 01101000 01100001 01101100 01101100 01100101 01101110 01100111 01101001 01101110 01100111 00111010 00100000 01111001 01101111 01110101 00100000 01110000 01110010 01100101 01100110 01100101 01110010 00100000 01110100 01101111 00100000 01100011 01101000 01100001 01101100 01101100 01100101 01101110 01100111 01100101 00100000 01100001 01110101 01110100 01101000 01101111 01110010 01101001 01110100 01111001 00100000 01100001 01101110 01100100 00100000 01110100 01110010 01100001 01100100 01101001 01110100 01101001 01101111 01101110 01100001 01101100 00100000 01110110 01100001 01101100 01110101 01100101 01110011 00100000 01110100 01101111 00100000 01101000 01100101 01101100 01110000 00100000 01100010 01110010 01101001 01101110 01100111 00100000 01100001 01100010 01101111 01110101 01110100 00100000 01110000 01101111 01110011 01101001 01110100 01101001 01110110 01100101 00100000 01100011 01101000 01100001 01101110 01100111 01100101 01110011 00101110 00100000 01011001 01101111 01110101 00100000 01100001 01110010 01100101 00100000 01100001 01110000 01110000 01110010 01100101 01100011 01101001 01100001 01110100 01101001 01110110 01100101 00100000 01101111 01100110 00100000 01100001 01110010 01110100 00111010 00100000 01111001 01101111 01110101 00100000 01100101 01101110 01101010 01101111 01111001 00100000 01100010 01100101 01100001 01110101 01110100 01111001 00100000 01100001 01101110 01100100 00100000 01110011 01100101 01100101 01101011 00100000 01101111 01110101 01110100 00100000 01100011 01110010 01100101 01100001 01110100 01101001 01110110 01100101 00100000 01100101 01111000 01110000 01100101 01110010 01101001 01100101 01101110 01100011 01100101 01110011 00101110 00100000 01000001 01101110 01100100 00100000 01111001 01101111 01110101 00100000 01100001 01110010 01100101 00100000 01101101 01100101 01101100 01100001 01101110 01100011 01101000 01101111 01101100 01111001 00111010 00100000 01111001 01101111 01110101 00100000 01110100 01101000 01101001 01101110 01101011 00100000 01110001 01110101 01101001 01110100 01100101 00100000 01101111 01100110 01110100 01100101 01101110 00100000 01100001 01100010 01101111 01110101 01110100 00100000 01110100 01101000 01100101 00100000 01110100 01101000 01101001 01101110 01100111 01110011 00100000 01111001 01101111 01110101 00100000 01100001 01110010 01100101 00100000 01110101 01101110 01101000 01100001 01110000 01110000 01111001 00100000 01100001 01100010 01101111 01110101 01110100 00101110 00001101 00001010 00001101 00001010 01011001 01101111 01110101 00100000 01100001 01110010 01100101 00100000 01101101 01101111 01110100 01101001 01110110 01100001 01110100 01100101 01100100 00100000 01110100 01101111 00100000 01110011 01100101 01100101 01101011 00100000 01101111 01110101 01110100 00100000 01100101 01111000 01110000 01100101 01110010 01101001 01100101 01101110 01100011 01100101 01110011 00100000 01110100 01101000 01100001 01110100 00100000 01110000 01110010 01101111 01110110 01101001 01100100 01100101 00100000 01100001 00100000 01110011 01110100 01110010 01101111 01101110 01100111 00100000 01100110 01100101 01100101 01101100 01101001 01101110 01100111 00100000 01101111 01100110 00100000 01100100 01101001 01110011 01100011 01101111 01110110 01100101 01110010 01111001 00101110 00001101 00001010 00001101 00001010 01011001 01101111 01110101 00100000 01100001 01110010 01100101 00100000 01110010 01100101 01101100 01100001 01110100 01101001 01110110 01100101 01101100 01111001 00100000 01110101 01101110 01100011 01101111 01101110 01100011 01100101 01110010 01101110 01100101 01100100 00100000 01110111 01101001 01110100 01101000 00100000 01110100 01110010 01100001 01100100 01101001 01110100 01101001 01101111 01101110 00111010 00100000 01111001 01101111 01110101 00100000 01100011 01100001 01110010 01100101 00100000 01101101 01101111 01110010 01100101 00100000 01100001 01100010 01101111 01110101 01110100 00100000 01101101 01100001 01101011 01101001 01101110 01100111 00100000 01111001 01101111 01110101 01110010 00100000 01101111 01110111 01101110 00100000 01110000 01100001 01110100 01101000 00100000 01110100 01101000 01100001 01101110 00100000 01100110 01101111 01101100 01101100 01101111 01110111 01101001 01101110 01100111 00100000 01110111 01101000 01100001 01110100 00100000 01101111 01110100 01101000 01100101 01110010 01110011 00100000 01101000 01100001 01110110 01100101 00100000 01100100 01101111 01101110 01100101 00101110 00100000 01011001 01101111 01110101 00100000 01100011 01101111 01101110 01110011 01101001 01100100 01100101 01110010 00100000 01101001 01101110 01100100 01100101 01110000 01100101 01101110 01100100 01100101 01101110 01100011 01100101 00100000 01110100 01101111 00100000 01100111 01110101 01101001 01100100 01100101 00100000 01100001 00100000 01101100 01100001 01110010 01100111 01100101 00100000 01110000 01100001 01110010 01110100 00100000 01101111 01100110 00100000 01110111 01101000 01100001 01110100 00100000 01111001 01101111 01110101 00100000 01100100 01101111 00111010 00100000 01111001 01101111 01110101 00100000 01101100 01101001 01101011 01100101 00100000 01110100 01101111 00100000 01110011 01100101 01110100 00100000 01111001 01101111 01110101 01110010 00100000 01101111 01110111 01101110 00100000 01100111 01101111 01100001 01101100 01110011 00100000 01110100 01101111 00100000 01100100 01100101 01100011 01101001 01100100 01100101 00100000 01101000 01101111 01110111 00100000 01110100 01101111 00100000 01100010 01100101 01110011 01110100 00100000 01100001 01100011 01101000 01101001 01100101 01110110 01100101 00100000 01110100 01101000 01100101 01101101 00101110